3.3: Strong paragraphs start with good evidence
Last updated
Page ID

15674
\( \newcommand{\vecs}[1]{\overset { \scriptstyle \rightharpoonup} {\mathbf{#1}} } \) \( \newcommand{\vecd}[1]{\overset{-\!-\!\rightharpoonup}{\vphantom{a}\smash {#1}}} \)\(\newcommand{\id}{\mathrm{id}}\) \( \newcommand{\Span}{\mathrm{span}}\) \( \newcommand{\kernel}{\mathrm{null}\,}\) \( \newcommand{\range}{\mathrm{range}\,}\) \( \newcommand{\RealPart}{\mathrm{Re}}\) \( \newcommand{\ImaginaryPart}{\mathrm{Im}}\) \( \newcommand{\Argument}{\mathrm{Arg}}\) \( \newcommand{\norm}[1]{\| #1 \|}\) \( \newcommand{\inner}[2]{\langle #1, #2 \rangle}\) \( \newcommand{\Span}{\mathrm{span}}\) \(\newcommand{\id}{\mathrm{id}}\) \( \newcommand{\Span}{\mathrm{span}}\) \( \newcommand{\kernel}{\mathrm{null}\,}\) \( \newcommand{\range}{\mathrm{range}\,}\) \( \newcommand{\RealPart}{\mathrm{Re}}\) \( \newcommand{\ImaginaryPart}{\mathrm{Im}}\) \( \newcommand{\Argument}{\mathrm{Arg}}\) \( \newcommand{\norm}[1]{\| #1 \|}\) \( \newcommand{\inner}[2]{\langle #1, #2 \rangle}\) \( \newcommand{\Span}{\mathrm{span}}\)\(\newcommand{\AA}{\unicode[.8,0]{x212B}}\)
(1100 words)
Support your thesis with evidence AND analysis
A paragraph is a group of sentences that present, develop, and support a single idea. That's it. There's no prescribed length or number of sentences. In academic writing, body paragraphs need to work together with the thesis to support your main point. If your thesis states where your essay wants to go, then your body paragraphs need to show the reader how you get there. Paragraphs rarely stand alone, so most often the main topic of the paragraph serves the main concept or purpose of a larger whole; for example, the main idea of a paragraph in an essay should serve to develop and support the thesis of the essay.
By reading and annotating your sources, and by responding and analyzing to those sources, you should have developed lots of ideas that can now form the beginnings of your paragraphs. If you don't have ideas about your sources yet, STOP WRITING AND READ AGAIN. When writing with and about sources, you want to have the ideas before you start writing. If you start your paragraphs without evidence with the intention of add the evidence later, you are likely to fall into the trap of confirmation bias: only seeing the evidence you want to see. And, adding the evidence later makes it harder to develop your ideas sufficiently.
Topic Sentence
The job of the topic sentence is to control the development and flow of the information contained in the paragraph. The topic sentence takes control of the more general topic of the paragraph and shapes it in the way that you choose to present it to your readers. It provides a way through a topic that is likely much broader than what you could ever cover in a paragraph, or even in an essay. This more focused idea, your topic sentence, helps you determine the parts of the topic that you want to illuminate for your readers—whether that's a college essay or a thank you letter to your Aunt Martha. The following diagram illustrates how a topic sentence can provide more focus to the general topic at hand.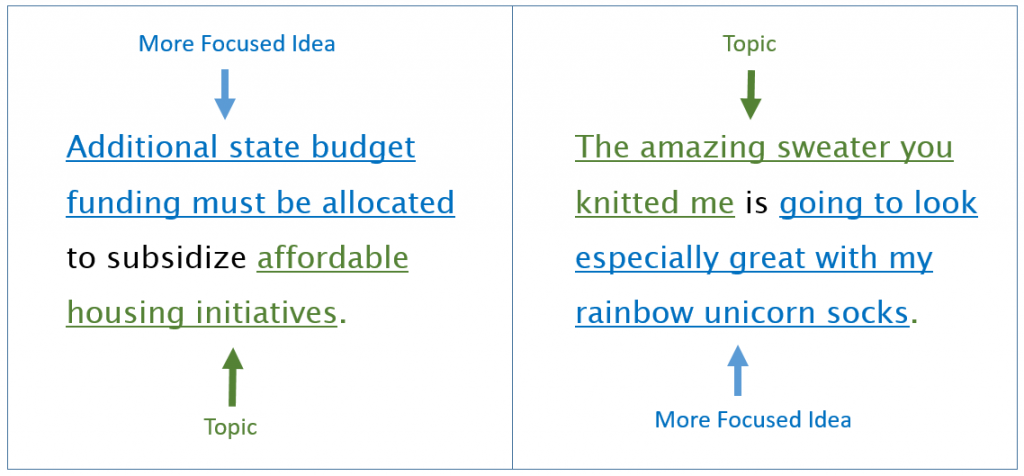 Select the Most Effective Primary Support for a Thesis Statement
When you support your thesis, you are revealing evidence. Evidence includes anything that can help support your stance. The following are the kinds of evidence you will encounter as you conduct your research:
Facts. Facts, such as statistics, are the best kind of evidence to use because they often cannot be disputed. They can support your stance by providing background information on or a solid foundation for your point of view. However, facts still need explanation. For example, the sentence "The most populated state in the United States is California" is a pure fact, but it will require some explanation to make it relevant to your specific argument. Always be sure you gather your facts from credible sources.
Judgments. Judgments are conclusions drawn from the given facts. Judgments are more credible than opinions because they are founded upon careful reasoning and examination of a topic. Use judgments from experts in the field as they are the more credible sources for the topic.
Testimony. Testimony consists of direct quotations from either an eyewitness or an expert witness. An eyewitness is someone who directly observed an instance of what you are writing about; testimony adds authenticity to an argument based on facts. An expert witness is a person who has extensive experience with a topic. This person studies the facts and provides commentary based on either facts or judgments, or both. An expert witness adds authority and credibility to an argument.
Personal observation. Personal observation is similar to testimony, but personal observation consists of your testimony. It reflects what you know to be true because you have experiences and have formed either opinions or judgments about them. For instance, if you are one of five children and your thesis states that being part of a large family is beneficial to a child's social development, you could use your own experience to support your thesis.
Include Supporting Detail Sentences for the Topic Sentence
After deciding which primary support points you will use as your topic sentences, you must add details to clarify and demonstrate each of those points. These supporting details provide examples, facts, or evidence that support the topic sentence.
The following paragraph contains supporting detail sentences for the the topic sentence, which is underlined.
J.D. Salinger, a World War II veteran, suffered from posttraumatic stress disorder, a disorder that influenced the themes in many of his works. He did not hide his mental anguish over the horrors of war and once told his daughter, "You never really get the smell of burning flesh out of your nose, no matter how long you live." His short story "A Perfect Day for a Bananafish" details a day in the life of a WWII veteran who was recently released from an army hospital for psychiatric problems. The man acts questionably with a little girl he meets on the beach before he returns to his hotel room and commits suicide. Another short story, "For Esmé – with Love and Squalor," is narrated by a traumatized soldier who sparks an unusual relationship with a young girl he meets before he departs to partake in D-Day. Finally, in Salinger's only novel, The Catcher in the Rye, he continues with the theme of posttraumatic stress, though not directly related to war. From a rest home for the mentally ill, sixteen-year-old Holden Caulfield narrates the story of his nervous breakdown following the death of his younger brother.
Adding Explanation and Elaboration in your Body Paragraphs
In addition to supporting details, college level paragraphs add quite a bit of explanation and elaboration in body paragraphs. Development of explanation and elaboration is one of the big differences between high school and college-level writing. Rather than just appearing in one paragraph all by itself -- possibly in a conclusion -- explanation and elaboration should appear through your essay. Some sentence stems you can use to help you develop your explanation and elaboration appear in the following list.
Sentence Stems for Elaboration
X matters because ___________.
X is important because ___________.
X is crucial in terms of today's concern over ___________ because ___________.
Ultimately, what is at stake here is ___________.
These points have important consequences for the broader discussion about ___________.
The discussion of X is in fact addressing the larger matter of ___________.
These conclusions have significant implications for ___________.
X should in fact concern anyone who cares about ___________.
Contributors