21.1: Biography
Last updated
Page ID

3288
\( \newcommand{\vecs}[1]{\overset { \scriptstyle \rightharpoonup} {\mathbf{#1}} } \) \( \newcommand{\vecd}[1]{\overset{-\!-\!\rightharpoonup}{\vphantom{a}\smash {#1}}} \)\(\newcommand{\id}{\mathrm{id}}\) \( \newcommand{\Span}{\mathrm{span}}\) \( \newcommand{\kernel}{\mathrm{null}\,}\) \( \newcommand{\range}{\mathrm{range}\,}\) \( \newcommand{\RealPart}{\mathrm{Re}}\) \( \newcommand{\ImaginaryPart}{\mathrm{Im}}\) \( \newcommand{\Argument}{\mathrm{Arg}}\) \( \newcommand{\norm}[1]{\| #1 \|}\) \( \newcommand{\inner}[2]{\langle #1, #2 \rangle}\) \( \newcommand{\Span}{\mathrm{span}}\) \(\newcommand{\id}{\mathrm{id}}\) \( \newcommand{\Span}{\mathrm{span}}\) \( \newcommand{\kernel}{\mathrm{null}\,}\) \( \newcommand{\range}{\mathrm{range}\,}\) \( \newcommand{\RealPart}{\mathrm{Re}}\) \( \newcommand{\ImaginaryPart}{\mathrm{Im}}\) \( \newcommand{\Argument}{\mathrm{Arg}}\) \( \newcommand{\norm}[1]{\| #1 \|}\) \( \newcommand{\inner}[2]{\langle #1, #2 \rangle}\) \( \newcommand{\Span}{\mathrm{span}}\)\(\newcommand{\AA}{\unicode[.8,0]{x212B}}\)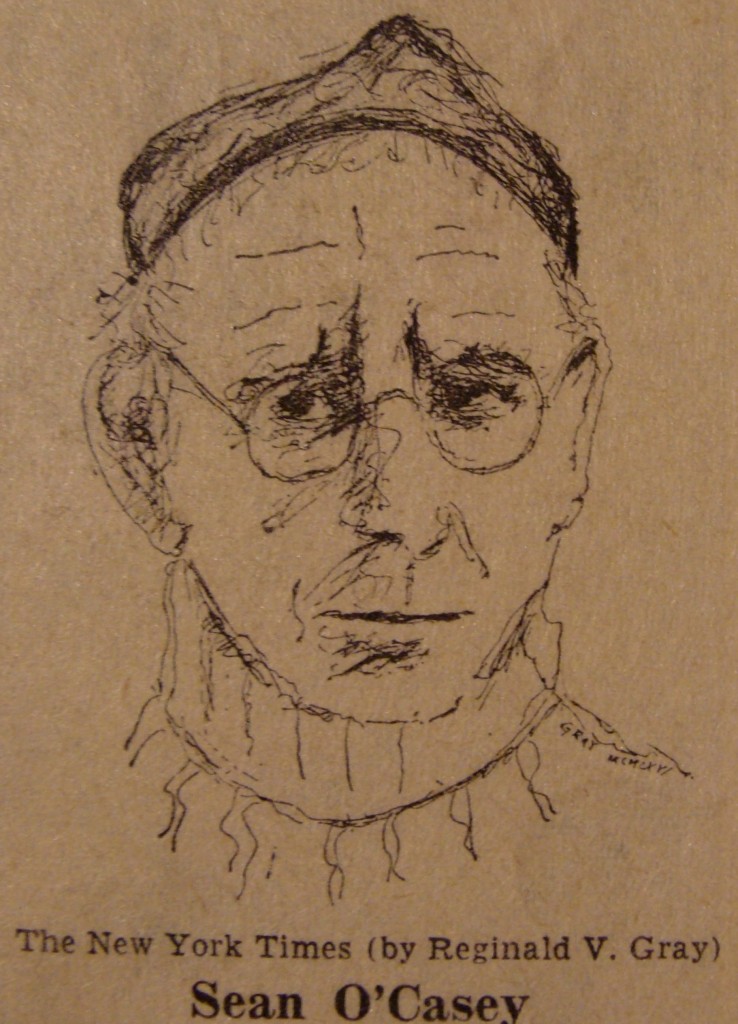 Figure 1: Sean O'Casey Portrait
Baptized as John Casey, the youngest of 13 children, O'Casey was born in Dublin, Ireland, in 1880 to a Catholic father and Protestant mother (the Susan Casside described in the first volume of his autobiography, I Knock at the Door) and in whose religion he was raised. As a member of the Gaelic League, he campaigned for Anglican services to be delivered in Irish. By age 14, he had found work as a stockroom labourer, and he continued as a manual labourer until 1925, when, after the success of Juno and the Paycock, he was able to devote himself full-time to writing.
A strong trades-union advocate and lifelong socialist, he took part in Jim Larkin's seven-month-long Lockout Strike in 1913, and later became secretary of the Irish Citizen Army, drafting its constitution. But he refused to take part in the Easter Rebellion of 1916, disagreeing with the militant nationalist Padraic Pearse and other members of the Irish Volunteer Army, who advocated bloodshed in the effort to shake off British rule. His play The Plough and the Stars (1926)—the third play in his Dublin Trilogy (preceded by Shadow of a Gunman in 1923 and Juno and the Paycock in 1924—was typically critical of the politics of nationalism, and its first performance at the Abbey Theatre in Dublin created almost as much of a riot as had Synge's Playboy of the Western World, leading W. B. Yeats to exclaim to an unruly audience: "You have again rocked the cradle of genius."
After the successful run of Juno and the Paycock in London, O'Casey travelled to London in 1926 to receive the Hawthornden Prize for this play. There he met his future wife, the Irish actress Eileen Carey Reynolds, and the couple settled in England in 1927. In 1930, Alfred Hitchcock directed a talking-film version of Juno and the Paycock, and again, public outcry resulted, including riots in Limerick, mainly because of O'Casey's consistent refusal to glorify the violence of the nationalist movement, instead mocking the romanticization of war. "In Juno and the Paycock, he fully explores the Irish people and their culture in a complex way, exploring both the tragic and comic sides of each of his characters as each of them struggles for a better life."
O'Casey died in Torquay, England, in 1964 after suffering a heart attack.
Note re: Juno and the Paycock
Juno and the Paycock is not available in the Public Domain until January 2015. Please go to your library to find a copy of Juno and the Paycock.
Contributors and Attributions