1.15: 20th Century Modern Art Movements - Surrealism
Last updated
Page ID

67705
\( \newcommand{\vecs}[1]{\overset { \scriptstyle \rightharpoonup} {\mathbf{#1}} } \) \( \newcommand{\vecd}[1]{\overset{-\!-\!\rightharpoonup}{\vphantom{a}\smash {#1}}} \)\(\newcommand{\id}{\mathrm{id}}\) \( \newcommand{\Span}{\mathrm{span}}\) \( \newcommand{\kernel}{\mathrm{null}\,}\) \( \newcommand{\range}{\mathrm{range}\,}\) \( \newcommand{\RealPart}{\mathrm{Re}}\) \( \newcommand{\ImaginaryPart}{\mathrm{Im}}\) \( \newcommand{\Argument}{\mathrm{Arg}}\) \( \newcommand{\norm}[1]{\| #1 \|}\) \( \newcommand{\inner}[2]{\langle #1, #2 \rangle}\) \( \newcommand{\Span}{\mathrm{span}}\) \(\newcommand{\id}{\mathrm{id}}\) \( \newcommand{\Span}{\mathrm{span}}\) \( \newcommand{\kernel}{\mathrm{null}\,}\) \( \newcommand{\range}{\mathrm{range}\,}\) \( \newcommand{\RealPart}{\mathrm{Re}}\) \( \newcommand{\ImaginaryPart}{\mathrm{Im}}\) \( \newcommand{\Argument}{\mathrm{Arg}}\) \( \newcommand{\norm}[1]{\| #1 \|}\) \( \newcommand{\inner}[2]{\langle #1, #2 \rangle}\) \( \newcommand{\Span}{\mathrm{span}}\)\(\newcommand{\AA}{\unicode[.8,0]{x212B}}\)
Surrealism
André Breton

André Breton, French (1896 - 1966)
André Breton was the founder and chief theorist of the Surrealist Movement. Through his study of medicine and work with the insane, he became interested in irrational imagery. After serving as a medical auxiliary during the First World War, he discovered the work of Sigmund Freud. The subjects of psychiatry, the illogical and the unconscious mind appealed greatly to the Surrealists. By 1924, Breton had become a prominent figure in the Parisian avant garde and had gathered around him a group of poets and artists interested in exploring the subconscious. The Surrealist Movement was launched that year with Breton's 'Manifesto of Surrealism'.
https://www.nationalgalleries.org/art-and-artists/artists/andre-breton
Surrealist Manifesto
André Breton wrote the manifesto of 1924 that defines the purposes of the group. He included citations of the influences on Surrealism, examples of Surrealist works and discussion of Surrealist automatism.
Definitions
Dictionary: Surrealism, n. Pure psychic automatism, by which one proposes to express, either verbally, in writing, or by any other manner, the real functioning of thought. Dictation of thought in the absence of all control exercised by reason, outside of all aesthetic and moral preoccupation.
Encyclopedia: Surrealism. Philosophy. Surrealism is based on the belief in the superior reality of certain forms of previously neglected associations, in the omnipotence of dream, in the disinterested play of thought. It tends to ruin once and for all other psychic mechanisms and to substitute itself for them in solving all the principal problems of life.
Surrealism and Reality
The way artists approach reality is part of their visual toolbox: Artists may depict much of what they see in the physical world, they may alter appearances, or they may invent forms that no one has seen. Breton initially had a group of writers in his small group of Surrealists, but eventually several visual artists were accepted into the group. The following are several prominent Surrealist artists and examples of their work.
René Magritte
René Magritte, Belgian (1898 - 1967)
https://www.nationalgalleries.org/art-and-artists/artists/rene-magritte
Magritte was born in Belgium and, apart from a few years spent in Paris in the late 1920s, lived there all his life. Unlike many Surrealists, Magritte did not subscribe to the view that the unconscious could be expressed through chance or 'automatic' techniques. Instead, he planned and executed his paintings with all the deliberation and skill of an academic painter. The results are surprisingly credible images of seemingly illogical scenes. Magritte would undermine logic by tampering with scale and by placing unrelated objects in unexpected settings. A constant theme running through his art is the relationship that exists between the painted image and the visible world, between fiction and reality. Magritte's art blurs the boundaries between the two. In his art, Magritte shows images that appear real. However, he may add writing that tells a different story and leads the viewer to a place where they must interact with the work and answer the literal posed question, or visual conundrum. These paintings require the interaction and participation of the viewer and are best represented by his series of paintings The Treason of Images painted in 1929.
The Treason of Images, 1929
Surrealist paintings by René Magritte.
Salvador Dalí
Salvador Dalí spent much of his life promoting himself and shocking the world. He relished courting the masses, and he was probably better known, especially in the United States, than any other 20th-century painter, including even fellow Spaniard Pablo Picasso. He loved creating a sensation, not to mention controversy, and early in his career exhibited a drawing, titled Sacred Heart, that featured the words "Sometimes I Spit with Pleasure on the Portrait of My Mother." Publicity and money apparently mattered so much to Dalí that, twitching his waxed, upturned mustache, he endorsed a host of products for French and American television commercials. Modesty was not in his vocabulary. "Compared to Velázquez, I am nothing," he said in 1960, "but compared to contemporary painters, I am the most big genius of modern time."
https://www.smithsonianmag.com/arts-culture/the-surreal-world-of-salvador-dali-78993324/
https://thedali.org/about-the-museum/timeline/
Salvador Dalí, Spanish (1904 - 1989)
Max Ernst
A key member of first Dada and then Surrealism in Europe in the 1910s and 1920s, Max Ernst used a variety of mediums—painting, collage, printmaking, sculpture, and various unconventional drawing methods—to give visual form to both personal memory and collective myth. By combining illusionistic technique with a cut-and-paste logic, he made the incredible believable, expressing disjunctions of the mind and shocks of societal upheavals with unsettling clarity.
https://www.moma.org/artists/1752
Max Ernst, French and American, born in Gemany (1891 - 1976)
https://medium.com/@milenaolesinska77/max-ernst-the-master-of-surrealism-8096a78d24dd
Examples of Student Surrealist-inspired Drawings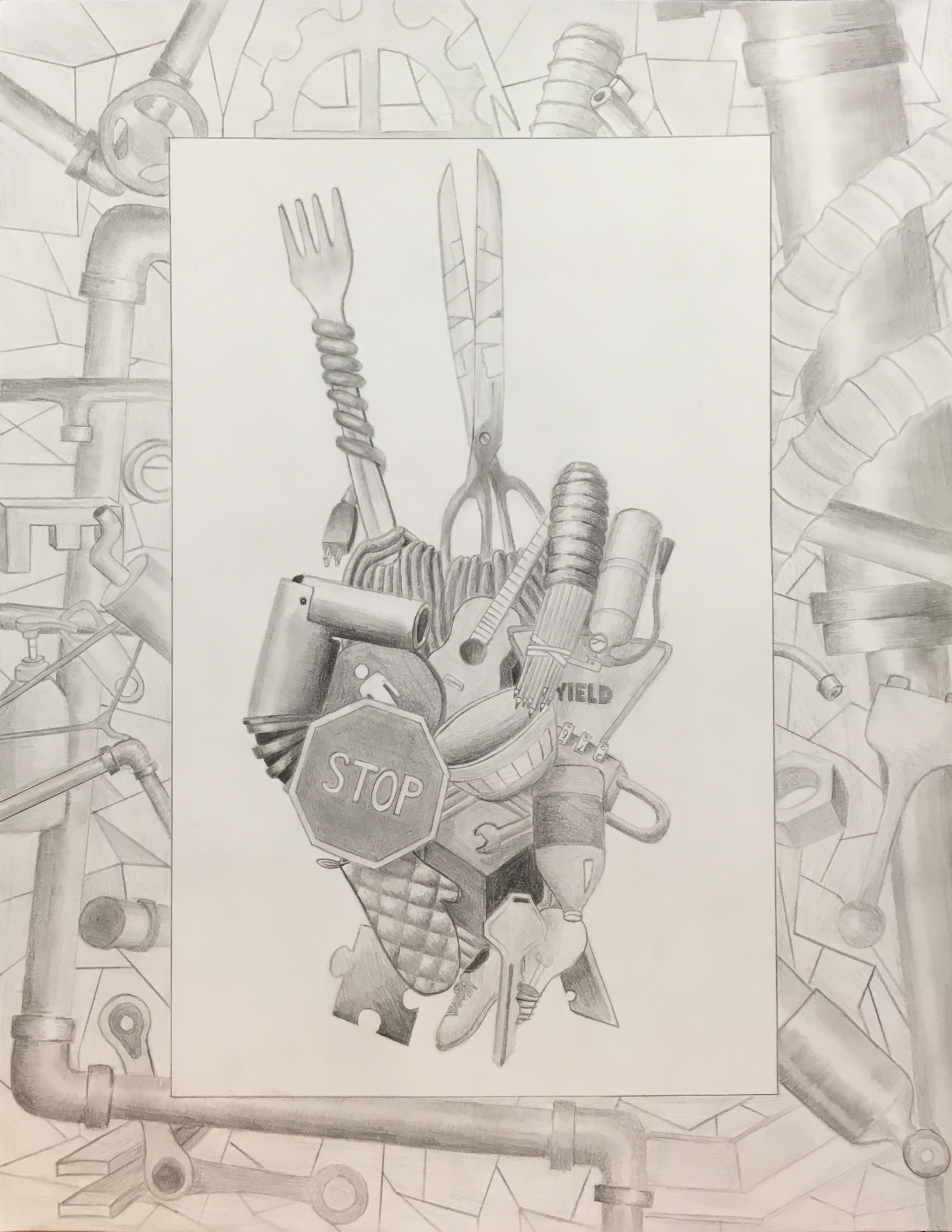 Surrealist Drawing Assignment
Using a full sheet of drawing paper, create a drawing from your imagination after studying the philosophy and artwork of the Surrealists. Examples of student work is above.