9.1: Biography
Last updated
Page ID

3165
\( \newcommand{\vecs}[1]{\overset { \scriptstyle \rightharpoonup} {\mathbf{#1}} } \) \( \newcommand{\vecd}[1]{\overset{-\!-\!\rightharpoonup}{\vphantom{a}\smash {#1}}} \)\(\newcommand{\id}{\mathrm{id}}\) \( \newcommand{\Span}{\mathrm{span}}\) \( \newcommand{\kernel}{\mathrm{null}\,}\) \( \newcommand{\range}{\mathrm{range}\,}\) \( \newcommand{\RealPart}{\mathrm{Re}}\) \( \newcommand{\ImaginaryPart}{\mathrm{Im}}\) \( \newcommand{\Argument}{\mathrm{Arg}}\) \( \newcommand{\norm}[1]{\| #1 \|}\) \( \newcommand{\inner}[2]{\langle #1, #2 \rangle}\) \( \newcommand{\Span}{\mathrm{span}}\) \(\newcommand{\id}{\mathrm{id}}\) \( \newcommand{\Span}{\mathrm{span}}\) \( \newcommand{\kernel}{\mathrm{null}\,}\) \( \newcommand{\range}{\mathrm{range}\,}\) \( \newcommand{\RealPart}{\mathrm{Re}}\) \( \newcommand{\ImaginaryPart}{\mathrm{Im}}\) \( \newcommand{\Argument}{\mathrm{Arg}}\) \( \newcommand{\norm}[1]{\| #1 \|}\) \( \newcommand{\inner}[2]{\langle #1, #2 \rangle}\) \( \newcommand{\Span}{\mathrm{span}}\)\(\newcommand{\AA}{\unicode[.8,0]{x212B}}\)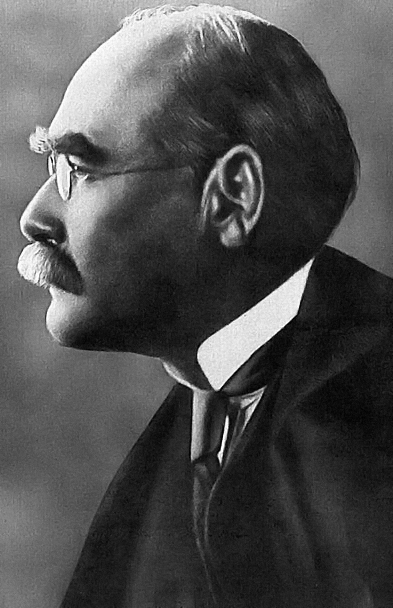 Figure 1: Joseph Rudyard Kipling
Joseph Rudyard Kipling was born December 30, 1865, in Bombay, India, to a British family. When he was five years old, he was taken to England to begin his education, where he suffered deep feelings of abandonment and confusion after leaving a pampered lifestyle as a colonial. He returned to India at the age of 17 to work as a journalist and editor for the Civil and Military Gazette in Lahore. Kipling published his first collection of verse, Departmental Ditties and Other Verses, in 1886, and his first collection of stories, Plain Tales from the Hills, in 1888.
In the early 1890s, some of his poems were published in William Ernest Henley's National Observer and later collected in Barrack-Room Ballads (1892), an immensely popular collection that contained "Gunga Din" and "Mandalay." In 1892, Kipling married and moved to Vermont, where he published the two Jungle Books and began work on Kim. He returned to England with his family in 1896 and published another novel, Captains Courageous. Kipling visited South Africa during the Boer War, editing a newspaper there and writing the Just So Stories. Kim, Kipling's most successful novel (and his last), appeared in 1901. The Kipling family moved to Sussex permanently in 1902, and he devoted the rest of his life to writing poetry and short stories, including his most famous poem, "If—." He died on January 18, 1936; his ashes are buried in Westminster Abbey.
Reprinted with the permission of the Academy of American Poets, 75 Maiden Lane, Suite 901, New York, NY. www.poets.org.