7.1: Biography
Last updated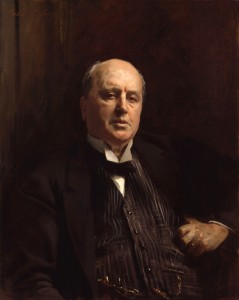 Figure 1: Henry James
Known for his sophisticated style, precise language, extraordinary productivity, and innovative attention to the novel form, Henry James ranks among the greatest American writers. He was born in the mid-19th century in New York City. His father, Henry James Sr., was a wealthy and eccentric philosopher who initiated his young son into what would become a lifelong habit of travel. The family, eventually consisting of five children, crossed the Atlantic Ocean repeatedly before 1860, and the James children were brought up and educated in Europe almost as much as they were in America.
When the family returned to America just before the Civil War, two of James's brothers enlisted in the Union Army, but Henry himself stayed out of the war because of an injury. After a brief period studying law at Harvard, he began publishing stories and reviews in the major American magazines of his day, and by 1869, he had committed himself to a literary career. He travelled back and forth between Europe and America several times before finally deciding to settle in England, first in London and eventually at Lamb House, an 18th-century mansion located in a coastal town southeast of London. He became a naturalized British subject near the end of his life.
James always maintained an active social life (he was famous for dining out almost every night of the week) and had a close relationship with his family, especially with his brother William, a pioneering American psychologist who was an important influence on James. But despite his familial and social ties, James spent much of his time alone at his writing desk. He never married, and he poured most of his emotional energy into his work.
Scholars traditionally have divided James's career into three phases: a lengthy apprenticeship (1864–1881), the middle years (1882–1895), and his major phase (1896–2016). James first achieved international fame with his story "Daisy Miller: A Study" (1878), which deals with the contrast between European and American manners by exploring a young girl's disregard for social codes. Although some readers considered the story shocking, it was widely reprinted. James's early phase culminated with Portrait of a Lady (1881), a novel which many critics regard as one of his masterpieces. During what James referred to as his middle years, he produced several long political novels (none of which sold well), numerous short stories, some of his most influential literary criticism (including "The Art of Fiction"), and a disastrously unsuccessful play. James's major phase is characterized by his increasing complexity and subtlety as a writer and by the culmination of his development of a new modernist aesthetic for the novel form. It was also a period of intense productivity: he wrote 37 stories, some of his most famous novellas (including the ghost story The Turn of the Screw), and several of his most important novels. Between 1906 and 1910, James embarked on the monumental project of revising his own work for publication in the 24-volume New York edition of his Collected Works.
Throughout his career, James maintained an interest in contrasting European and American manners, and in exploring the ways psychologically complex characters deal with ambiguous social and intellectual problems. James has sometimes been criticized for the rarefied quality of his work. For some readers, he seems to neglect "flesh and blood" problems in order to focus on the neurotic anxieties of over-privileged, self-absorbed characters. But for James, the value of fiction writing lay in providing "a personal, a direct impression of life," which to him was best achieved not by chronicling material conditions but rather by examining the subjective, psychological complexities of human beings. His interest in psychology led him to develop the use of limited third-person narration, which is often regarded as one of his major contributions to American fiction. By relying on narrators who are not omniscient but instead render descriptions and observations through the limitations of the central character, James opens his stories to ambiguity. Readers must do more work–and involve themselves more in the process of meaning-making–to understand the relationship of the stories to their narration.
www.learner.org/amerpass/unit09/authors-6.html
Contributors